About Us
"Providing courteous and professional service with highest quality floral arrangements, gift baskets and gifts."
"Recognized for Outstanding Support of Florist to Florist and National Account Partner" Orders taken 24/7. (775) 762-3053. Same Day Delivery. Thank you to our Customers and Partners.
FlowerBell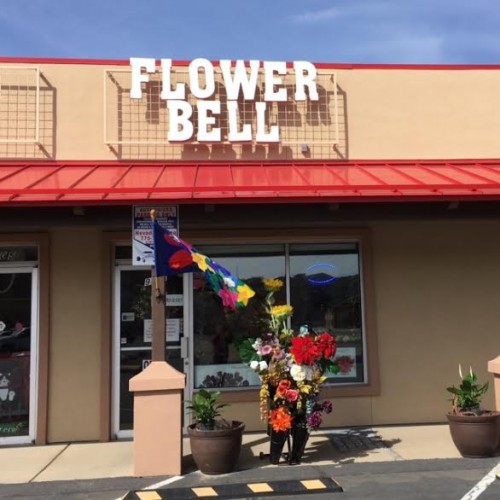 Our family supports Northern Nevada through volunteerism since 1970. Our designer is accredited member of AIFD, American Institute of Floral Designers with status as CFD, Certified Floral Designer.
FlowerBell Honors Service Personnel & Organizations
We are family of active and retired military, law enforcement, teachers and medical professionals. We honor and thank all veterans, active military, law enforcements, teachers, firefighters, medical professional and retired members for their effort and dedicated service. We offer appreciation discount to our heroes "Heroes20", please visit our website: FlowerBell.com, or call us at (775) 762-3053. Please support our local VFWs, American Legions and Law Enforcement Organizations.
Farm Animal Rescue
Please join FlowerBell in supporting farm animal rescue with contributions and or donated time. "Phunny Pharm" located in Doyle, California , phone number (530) 827-3282 , location 743-500 Aspen Lane Rd welcomes all to meet their family members, Charlene (Llama), The Tres Amigos (Donkeys), Cherokee and the gang (Horses).
Reno Rose Society
Interested in becoming a member, please call (775) 762-3053.
Flower Arrangements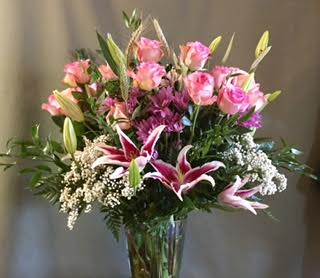 We will create flower arrangements for all occasions, Weddings, Birthdays, New Baby, Anniversary, Proms/Graduations, Holidays, Mother's Day, Valentines, Quenceneras, Debutante, Military Ball, ceremonies and special events. We send flowers anywhere - we support and serve National Florist to Florist accounts.
Gift Baskets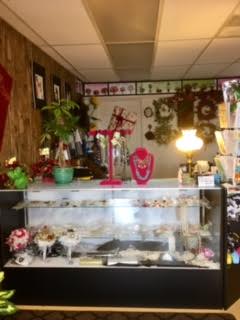 Surprise someone very special...Flowerbell custom arranges gift baskets for Birthdays, Get Well, Thinking of You, Events, Corporate Occasion. Be it their favorite gourmet basket, fruits, snacks, crackers/cheese, chocolates, covered strawberries.
Gifts, Baloons, Chocolates, Greeting Cards, Plush Bears
Order your Balloon Bouquet for only $24.95. Add on Greeting Cards, Chocolates, Plushed Bears for that special moment.
DIY Classes
We cater birthday parties, re-union, family day, with a Do-It-Yourself Classes. Please call Flowerbell at (775) 762-3053 for reservation or email us: myflowerbell@gmail.com).
Floral Arrangements for Lake Tahoe Weddings, Reno-Sparks Weddings and Carson Valley Weddings...

We are Booking 2019 and 2020 Weddings. Our top Wedding Designer is a Certified Floral Designer AIFD, American Institute of Floral Designers. FlowerBell is a member of Northern Nevada Bridal Association. Memorable Wedding Floral arrangements with elegant ceremonial flowers and creative reception centerpieces. Package Discount, Free Wedding Consultations and Venue Review. Affordable Setup and Delivery. We also custom create floral arrangements for Renewal of Vows or 25th and 50th Wedding Anniversary. Please call (775) 762-3053 for availability, for appointment or to register.

Floral Bouquet and Arrangements for Quiceanera and Debutant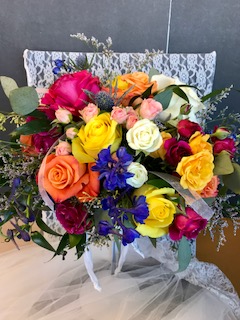 e....This special events are celebrated by the families to honor their daughter and is a priceless moment shared with families and dear friends. Floral Bouquet or complete package available at FlowerBell.
Memorials and Funerals
We design and deliver gentle flowers that beautifully convey your
expressions of sympathy and serve as a lovely tribute to the deceased. We offer Free Condolence Sash and Free Mini Flag upon request. Saturday and Sunday Flower Delivery Available for Funeral and Sympathy Flowers. Please Call (775) 762-3053 for Sympathy/Funeral/Memorial Package.